Empowering
Prosperity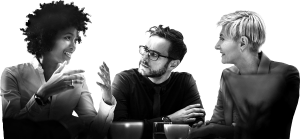 All people deserve to feel the happiness, freedom and empowerment of being financially literate and stable.
We're here to do our part to enable people to improve their financial health and learn as much about money and finances as possible.
The AIMCo Foundation empowers prosperity for individuals and families within the communities we serve. We enable financial literacy through grants to not-for-profit organizations focused on financial empowerment programs or services, and scholarships or bursaries through post-secondary institutions offering formal finance education. Learn more about our granting process and apply here.
Learn More
The AIMCo Foundation for Financial Education is a registered charity operated entirely by volunteers mostly of employees of the Alberta Investment Management Corporation (AIMCo). Building on the spirit of volunteerism and community spirit of AIMCo employees, we have evolved into a philanthropic organization focused on empowering prosperity through financial education. We fundraise throughout the year, with our volunteer committees carefully evaluating funding proposals to determine where we can make the biggest impact.
Learn More
The AIMCo Foundation for Financial Education empowers families and individuals to cultivate greater financial security. We are proud to support financial education initiatives throughout Alberta.
Our granting review cycle will occur twice each year, with proposals submitted through an initial online application form.
Learn More
Help Make a Difference
Please consider supporting financial education by donating to the AIMCo Foundation today.
Donate
OUR SUPPORTERS
Without the support of our donors, we wouldn't be able to provide the support we do to so many important financial education programs around Alberta. Thank you to our supporters.

See Our Supporters